It is becoming increasingly common to find a significant number of connected devices in your home; be it simply a wireless router, a fitness tracker or perhaps a smart central heating device to name a few. The number of IoT products and devices on the market is expanding at a rapid pace and with this comes a growing fear of cyber attacks and the potential for privacy invasion.
The burgeoning number of insecure Internet connected products was the key reasons why the The Internet of Things Security Foundation (IoTSF) was founded in 2015.
How do Normal Consumers at Home Manage IoT Security Threats with Ease?
Richard Marshall, Managing Consultant at Xitex Ltd and Plenary Chair to the IoTSF, recognises that "In the home environment, security needs to be managed with minimal consumer intervention and without the consumer having any specialist knowledge of security of IoT devices."
John Moor, the IoTSF's Managing Director, points out that, "Security is not static, it requires a series of on-going process that need to be managed over the combined life-cycles of the combined system elements – this includes services, devices and networks."
Due to the diverse use of proprietary interfaces, it is not practical or realistic that the "plug-and-play consumer" will be able to enforce baseline security.
The IoTSF's Newly Published Whitepaper suggests putting Security Responsibility onto Router Manufacturers and the Original Equipment Manufacturers (OEMs).
The document supplies much needed advice on the benefits of taking a hub-based approach, when connecting IoT devices and systems at home.
The hub-based approach is ideal for a "plug-and-play consumer" to ensure products and systems work together seamlessly. Yet it can also help the user avoid cyber security risks and data protection issues.
Xitex Ltd is proud to have made a significant contribution to the final version of the document. The document is intended for OEMs who are designing devices or smart hubs, Service Providers/Retailers and other Solution Providers for IoT products. To download the whitepaper please visit the IoTSF's best practice guidelines.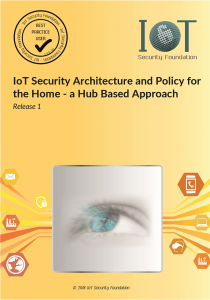 For more information please see the article published on the IoTSF website.